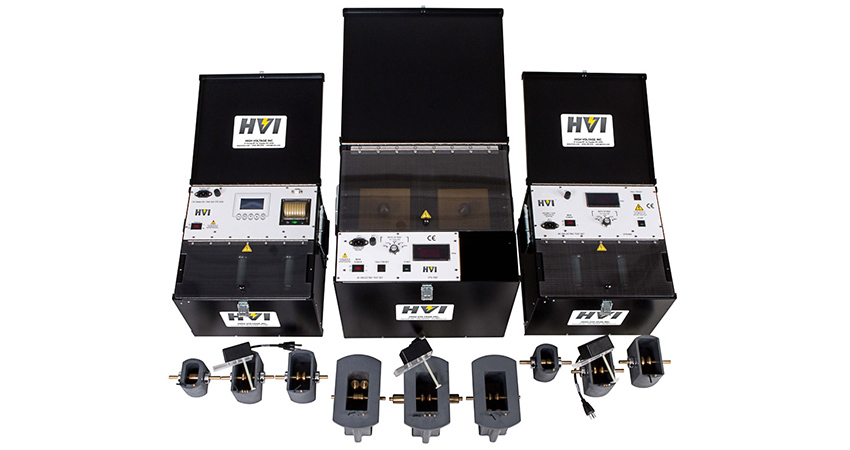 Oil Dielectric Test Sets
DTS Series
Features and Benefits
Oil Dielectric AC test sets provide replicable, accurate measurement of breakdown voltage of insulating oils used in electrical equipment. These lightweight, rugged units are designed for field and laboratory use.
The DTS Series provides repeatable and accurate measurements of the breakdown voltage of insulating oils used in electrical equipment. The DTS-60D & DTS-100D offer 60 kV AC and 100 kV AC output respectively. They include three user-selectable, automatic voltage rates-of-rise, and automatic voltage shutdown with the meter indicating the flashover voltage. Various test cells are available.
The DTS-60A is a fully automatic liquid dielectric test set, typically used for testing the voltage breakdown level of insulating oils. The most common world standards are pre-programmed into the controls. Just hit the start button and the test is performed. Custom test sequences can also be programmed. Test results stored internally can be downloaded to a computer or printed using the onboard thermal printer.
The HV transformer section is a leak-proof conventional steel tank with a gasket-bolted lid. The enclosures are made of thick aluminum. These instruments withstand the rigors of frequent transport and substation use.
Features
Three rates of rise, 500 V/2000 V/3000 V per second
Rate of rise selector switch with Stop/Dwell positions
Arc detection with automatic shutdown
Zero start and test chamber interlock provision
Window panel for test observation
60 kV & 100 kV test cells for ASTM & IEC standards
Models
Additional Information
Contact HVI sales at 518-329-3275 or [email protected] for additional information about the Oil Dielectric Test Sets.